This in a recording of an event organized by the NTB (Dutch triathlon organization). The recording is split in two parts and only the last part can be seen here. We cut video there where first athletes begin to finish. (First part only show all the passing's before.  If people are interested to see that as well just let me know.)
Starting at 9:40 minutes ( first 3000m finish at 9:48, last 5000m at 20:46).
View this movie in a new window with your preferred player:
20100904_0933_01-(vanaf-9.40)
In the movie the camera area to the right is colored red because this area is defined as a movement sensitive area and 15% of change will start recording. If athlete finally triggers the finish sensor the recording is still running and you as viewer get a better impression about the things that happened before the line.
Final results of the day (3000m and 5000m together in one race.).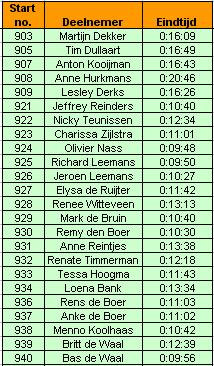 Movie production information:
The video presentation showed here is created with use of VirtualDub to remove all leading frames first. File is saved as direct stream AVI and processed with Winff (ffmpeg) to come from AVI to MP4 (h264).